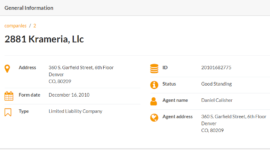 Practically every internet user has at least once searched for information about local companies. It can be market research or job hunting – motivations are varied, but the demand is one and the same. It's easy access to key business data. At this day and age, one would expect that finding such information is a piece of cake. Unfortunately, this demand still hasn't been properly addressed in the US.
Whether looking for data about large international corporations or small family businesses, users often encounter one serious setback – the complexity and poor usability of online business directories. Learning more about local markets is much harder than it should be. Web directories are often much too complex to satisfy average users who need the information right at the moment. Moreover, many of such databases feature outdated or fragmentary information, rendering any search even more frustrating to users.
Bizset answers this need with a clear platform, efficient search engine and a collection of informative business profiles which feature everything consumers and professionals would like to know about companies in the US.
The value of easy access to business data
One of today's strongest standards in business is transparency. Companies are ready to share much more information about themselves than they would have 15 years ago. Building meaningful relationships with consumers is a top priority. That's why trust and transparency are both critical values cultivated in today's business. And transparency means sharing key business data.
Despite the growing demand for quality business data, online databases hardly address this need. They're difficult to navigate and often feature incomplete business profiles.
Bizset offers a valuable point of reference because it has been created with average internet user in mind. It's user-friendly and offers a clearly structured directory page where searching and browsing are simple and quick. All data is kept up to date. To make searching for data easier, Bizset provides users with an efficient search tool, helping visitors to check all types of information related to any existing company in the US.
Company profiles are full of practical information, such as contact data, available website addresses, phone numbers and company e-mails. Bizset displays company locations on an interactive map and in the near future its creators plan to expand profiles with data about patents and detailed company filings.
Who can benefit from Bizset?
In essence, anyone interested in exploring the American market will find lots of valuable data on the platform. Job seekers will be able to screen companies and decide whether to apply to posted job offers. Journalists and researchers in need of statistical data can use the vast resources that power the platform as well. But most importantly, an average consumer can easily access all key information about a company before buying their product or simply learn more about the local market.
Bizset is a platform dedicated to all those who find traditional business directories difficult to navigate and plainly exhausting to browse. By offering a range of smart functionalities on a well-structured layout, Bizset makes every companies search quicker and easier than ever.