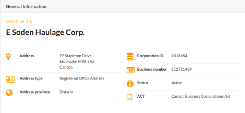 2017 saw the launch of an exciting new database that facilitates online research for companies registered and operating in Canada. The team behind the project designed an all-encompassing virtual repository of knowledge that aids entrepreneurs, business owners, investors and, of course, individual clients in looking up contact details and profiles of Canadian businesses.
There are numerous databases that collect information about companies, however Canadabiz.net approaches the subject from an innovative perspective. Many databases available online are either incomplete, contain outdated information, or provide limited or rudimentary datasets. And then there are those directories that require the users to pay a monthly fee for unlimited access. Canadabiz.net is a platform that you can trust to have only the most reliable and regularly updated information in its records, as the details about Canadian companies have been collected from government websites and official incorporation documents. And it is completely free of charge.
The platform contains detailed profiles of Canadian companies. Each company has its own dedicated profile page to ensure that information is neatly organised. On the profile page the users can find full legal name of the company, its addresses, business ID and status presented in a form of a user-friendly table. In a separate section there is a description of the company containing a brief summary of collected data. What follows is an interactive map displaying exact location of the company where the users can also find other businesses located nearby. Next, there is a list of company names and a summary of company's prior and current directors together with their addresses. On the bottom of the page there is also a list of companies located in close proximity with direct links to their profiles on Canadabiz.net.
The platform comes together with an alphabetically organised index page in order to make the search for Canadian companies faster and more enjoyable. How can the users search for companies using Canadabiz.net? When searching for a business all you need to know is the name of the company. If, however, you do not remember the exact name of the business, you can just go to the company index page, click on a corresponding section of the index marked with numbers and letters of the alphabet and you will be presented with all companies that match the search parameter of your choice. All you need to do next is to scroll down until you find the exact business you are looking for.
The team behind the project understands the importance of structured, organised and reliable information about companies available on the Internet. By compiling state-owned data into informative company reports, Canadabiz.net puts the needs of its users first. The platform offers insightful information available right away, which means that you no longer have to go through several different databases or make a few phone calls to verify the credibility of the information. With Canadabiz you can collect all the information you need with just one simple search. The platform is accessible from all portable devices, so do make sure to bookmark it on your phone or tablet and have this comprehensive business directory always within your reach, whenever you need it and wherever you are.